The sweet taste of success: Manukee honey drinks create a buzz at Fine Food NZ 2016
---
Manukee honey drinks are enabling more New Zealanders to get a hit of wellness-inducing manuka honey in an easy-to-drink form.
It's the brainchild of York Spencer, a switched-on entrepreneur with a solid background in beverages marketing across New Zealand and Asia working for the likes of Fonterra and Asia-Pacific Breweries.
"Our vision is to be New Zealand's leading manuka honey wellness drinks company. We're a born in New Zealand story, but we've certainly got international growth aspirations."
"I've always been an avid advocate of UMF manuka honey and I've always taken it to maintain my health. It's got some amazing wellness properties and there are a lot of studies that prove it has the ability to inhibit the growth of bacteria. So it's essentially a natural antiseptic," says York. 
Manukee contains certified UMF 10+ manuka honey sourced from hives located on the outskirts of Tongariro National Park in the central North Island. It comes in two flavours – lemon & elderflower and pear & ginger.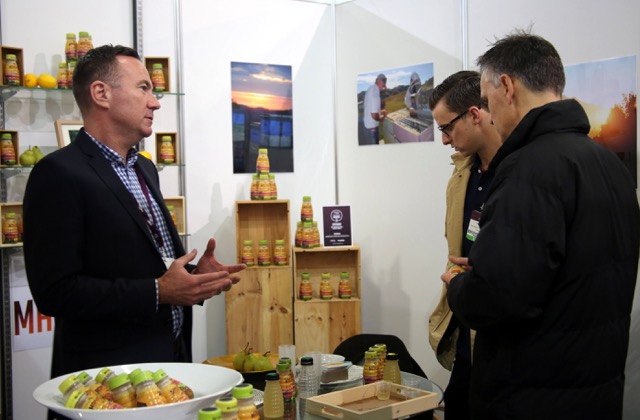 York knew Manukee needed a good distributor and heard about Fine Food NZ through the Auckland Chamber of Commerce.
"We were looking to launch the brand in New Zealand and Fine Food NZ had the trade spin we were looking for. At that point our focus was to introduce the brand to the trade, specifically potential distributors and potential retailers that we could either introduce the brand directly to, or access via a distributor."
"The service from the team was really efficient. They gave us lots of assistance and information, but at the end of the day it was up to us to make it happen. I genuinely found them very professional, responsive and helpful. There were never any bottlenecks, there was never any confusion."
York's extensive marketing experience played a big part in ensuring Manukee was well prepared by the time the doors opened on the show. He believes exhibiting doesn't have to be difficult, you just need to have clear objectives, get organised, and be prepared to work hard on your stand.
"Your stand doesn't have to be fancy. You don't have to spend a lot of money. Just be really clear about your objectives, your points of difference, your key selling messages, and have a small vision around the look and feel of your brand. Then it's a matter of finding the props that will help bring your brand alive on your stand," he says. 
York entered Manukee in the Fine Food 2016 Innovation Awards – and won the Most Innovative Retail Grocery Product award!
"That was cool. There's a bit of work to do the application but its not cumbersome and I would certainly encourage people to make the most of it. We won a $5000 ad package out of FMCG magazine and that gave us an introduction to key grocery retailers, who are a target channel for us."
It wasn't long before the perfect distribution partner turned up at the Manukee stand.
"We were approached by a distributor that specialises in the health and wellness sales channel throughout New Zealand and was looking for new products and new sources of growth. We had a chat at the show, did some sampling, and then we met up after the show and one thing led to another." 
Through the distributor, Manukee launched in 50 retail outlets in Auckland and the central North Island within six weeks. Plans are now afoot to launch into the rest of New Zealand, including the South Island soon.
If you're looking for an opportunity to sample your product and enable potential partners to taste and experience it for themselves, Fine Food NZ is hard to beat. 
"You can use it to find partners and get the product in front of the right people, just by doing a simple but effective job on your stand.
"It's a great environment to get feedback on your product or a product that you're about to launch. If you did a focus group with a research company, they're going to charge you $4000 to talk to eight people and get a report. You can go to a trade show and spend $4000 and speak to 250 people or more.
"We definitely got a great return on our investment."