Real Italian Doughnuts - One of the best following Fine Food NZ 2016
---
Real Italian Doughnuts will soon be in a supermarket, café, or restaurant near you (if they aren't already) – and here's how it happened.
It all started in 2014 when husband and wife team Salve and Janice Basile made the decision to leave their day jobs in Wellington and moved to Tauranga to start a doughnut business.
"Salve felt like a life change. He said: 'We're going to make doughnuts, sell them at events, and enjoy the sunshine'," says Janice.
Their company, Real Italian Doughnuts, makes and sells zeppole di patate – light and fluffy southern Italian doughnuts made to a traditional recipe from Salve's mother.
The couple built a food trailer and travelled around the Tauranga area, selling their fabulous treats to eager locals at a range of school fairs, food festivals, A&P Shows, and a regular Thursday night food truck event called 'Dinner in the Domain' in Papamoa.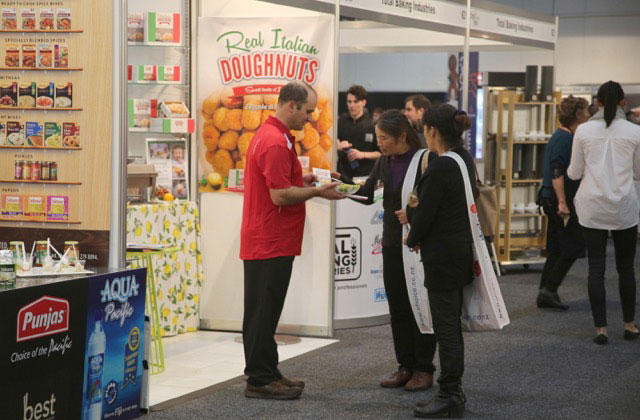 Making the doughnuts by hand, they soon started to struggle to keep up with demand so they teamed up with an Auckland doughnut factory to produce doughnuts to be sold through the trailer and a box range of frozen doughnuts for sale to a wider market of wholesale and retail customers.
To grow the business, they decided to launch two frozen boxes - a 200gm and 1kg option at Fine Food NZ 2016. The frozen doughnuts are a bite sized gourmet doughnut which are really easy to prepare and present either on their own or dressed up as a dessert option. The large box is designed for caterers, cafes and restaurants, whereas the small box is suitable for family dessert options.
"We found Fine Food NZ was a good way to get in touch with distribution channels and put our product in front of as many decision makers as possible," says Janice.
"We travelled to Auckland and attended the exhibitor training seminar, which was incredibly helpful. It gave us a lot of ideas about how to set up our stand, what we were going to need, and what we needed to think about. There was a lot about getting started and information on effective stand presentation."
Salve produced an initial design for their 3m x 3m stand, taking into account where everything would fit and what facilities they would need to store and heat the doughnuts. North Port Events provided them with contacts of suppliers for things like lighting, furniture, and stand construction. 
"The contacts were very good in sending us pictures of what our stand could look like and how it could work. They made it very easy," says Janice.
Salve says they deliberately chose not to do on-site sales and instead concentrated on simply getting as many people to try the product as possible. 
The word of mouth generated at the show paid off almost immediately as buyers went straight from tasting the doughnuts to ask Bidvest to stock them. Some people even brought Foodstuffs representatives to the stand to try them for themselves.
"We had people who went up to the Bidvest stand and said: 'When are you going to stock these doughnuts," says Janice. "The day after the show Salve met with the head of frozen foods at Bidvest and took them some samples." 
She says the main strengths of the show were the opportunity to access so many top buyers all in one place and the ability to put the product directly into buyers' hands.
"There were so many people from all around the country. If we tried to visit all those people with our manpower we'd still be working on it two years from now. It's an opportunity to get all those people in one place, get in front of them, and be able to talk to them," she says.
"Having the samples was fantastic otherwise people can't really understand what makes our doughnut different from other doughnuts. You don't want to just give people a pamphlet – they need to actually taste and experience it. That worked really well for us."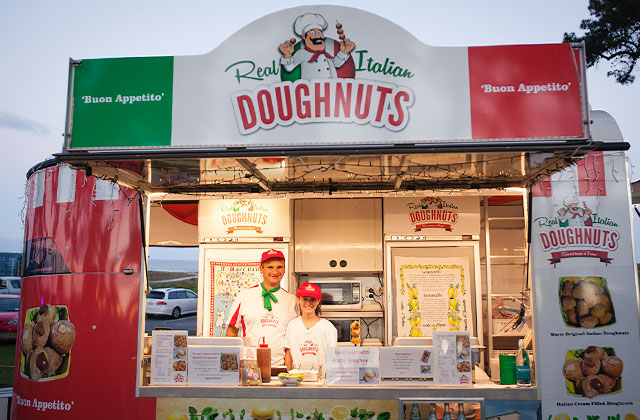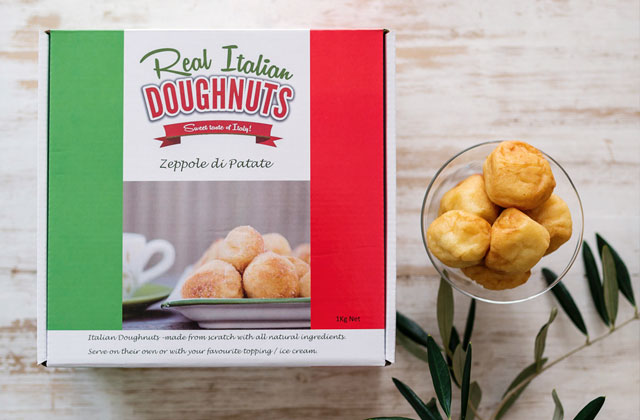 The couple put a lot of their success down to the amount of preparation they did – in the two months before the show they did little else – plus a great stand location and personable staff.
They asked visitors to fill in a registration of interest form and then created their own 'hot prospect' database for follow-up after the show. And although it was a very demanding three days on the stand, they came away from the show with a sense of vibrancy and enthusiasm.
"You get such a positive response from people. Everybody there was enthusiastic from the wholesalers to the supermarkets to the café owners. You come away from it feeling excited and motivated to keep on going," says Janice.
Although Fine Food NZ opened many doors for them, Janice says she doesn't regard it as a 'one-off miracle-maker'.
"We've booked in for the 2018 show because we got a distribution deal and we're making progress, but at the next one we'll use that to consolidate our position and get more traction with our sales," says Janice. 
"We're taking a two-pronged approach: the first year was for launching the product and getting our distribution set up; the next one will be the follow-up."
Real Italian Doughnuts are now stocked by Farro Fresh in Auckland, Moore Wilson's in Wellington, Gourmet Trader in Tauranga, and will soon be available through New World and Four Square outlets. Farro Fresh has since selected Real Italian Doughnuts as one of its 'Best of 2016' products.