Auckland exhibitor testimonials 2018
"Fine Food New Zealand was our first trade show in New Zealand and proved to be a great investment, with many quality visitors spending time with us on our stand and securing good orders. Thanks to the team of Fine Food New Zealand."
- Robin Massey, Unox New Zealand Ltd / New commercial equipment exhibitor from Australia
"Our leads gained at Fine Food New Zealand exceeded our expectations and we look forward to seeing postshow sales increase after educating new customers on where they can purchase our products and new uses of our product."
-  Jenna McCormick, Nutella Foodservice / New foodservice exhibitor
"We were really impressed with the amount of people that came through and got some excellent new leads and contacts in the industry."
- Lionel Don, Archer Hospitality / New hospitality exhibitor
"Wow what a show! Fine Food New Zealand has enabled us to showcase a small selection of the glorious food, [NZ Black Truffles & Brie, Apple Donuts with White Chocolate & Tonka Bean Custard went down a storm!] and non-food products that we supply the foodservice industry to new and existing customers. It was a fabulous opportunity to introduce the passionate and knowledgeable team behind the name."
- Jessica Naylor, Bidvest NZ
"Our experience at Fine Food New Zealand this year was very positive. For us the three main objectives of exhibiting were to generate 'new' sales leads, showcase our new products, and build brand awareness in Reso (after our rebranding exercise last year bringing Reso Tech Foods and French Imports together).
Post show we have many new (genuine) leads to follow up on, very good interest in the new products (muffins, mini donuts were some..), and
confident through discussions on the stand that the industry has a much better awareness of who Reso is and what we have to offer.." 
- Tim Thorburn, Resotech Foods
"It was our first time attending Fine Food New Zealand this year and it was a great success. Our calendar is full for the next couple of months following up on qualified leads and partnership opportunities here and abroad. We will be back in two years' time for sure."
- Jeremy Absolom, WilliamsWarn 
 "Fine Food was a superb opportunity for our team to showcase our business capabilities and engage in meaningful conversation to inspire visitors with value adding solutions for their businesses.  We served a unique range of product reflecting the latest industry trends - a snapshot of the full Bidvest basket on offer to both our new and existing customers."
- Kelly Galloway, Bidvest NZ
"The Fine Food New Zealand was successful show for our company. It was a well-organized event and focused on bringing industry decision makers at the retail level or large scale distributors for the NZ as well as the neighboring markets such as Australia and the small islands."
- Gustavo A. Fayad, Ginseng Up Corp –USA
 "We came to New Zealand with the hopes of generating interest in our new Meltique beef products, Our Company Hokubee Australia found that the Fine Foods New Zealnd show certainly generated many leads and gave us great exposure. We were able to secure distributors and forge what we hope will be long standing business relationships. We are excited at the potential to expand our business in NZ in the years ahead".
- Joel Laurie, Hokubee Australia
"Fine Food New Zealand in fact was to mark the launch of the Manetti brand in New Zealand - while the Manetti family have been making gold leaf in Florence since 1600 their products have never before been available here. Lorraine's help and advice made the whole process very easy. Another organiser, Freddie Gillies, was a godsend helping me with loading data and videos and just generally being there to answer any questions. In fact all the staff were helpful and made the experience fun and as stress free as those sort of events can be. I also decided to enter one of Manetti's new products - their flavoured gold range, Gold Chef - into the Innovation Awards which generated a lot of interest in the Manetti brand and was very worth while doing. From a business point of view I was extremely happy with the response I got. I had a huge number and wide variety of visitors to my stand - caterers, restaurants, hotel chains, cake decorators, luxury lodges and food bloggers to name a few. I also made some great contacts among the other exhibitors at Fine Food and as a result I can see some interesting opportunities for collaboration with them in the future. I will definitely be back in 2018." 
- Rosemary Waller, ROMAN HOLIDAY LIMITED
"Our experience at the 2016 Fine Food New Zealand was highly effective, fun and inspiring. We gained insight and feedback on our product proposition, met key industry contacts which will very likely lead to commercial transactions, and also had the opportunity to meet passionate foodies to share trials, tribulations and knowledge with. Overall, I found the return on investment to be effective, especially for early stage market entrants, and for those looking to expand and achieve growth".
- York Spencer, MANUKEE
"It has been an amazing show; the number of leads we gathered and the increased interest we have garnered for our new product offerings would not have been possible without an event like this. I know I speak for myself and many others when I say this but Fine Food New Zealand will always be one of my favorite trade shows"
- Shiv Maharaj, Washtech Ltd 
"The 2016 Fine Food New Zealand for The Rocky Road House was a very positive experience.  Travelling abroad to showcase your products to a new market with the aim to secure a distributor suitable to work with us on a national level in New Zealand could have been challenging, but for us with 80+ distributor and wholesale inquiries over the three days as an exhibitor it was definitely worth the investment.  I look forward to what the future has in store for our products in New Zealand once our supply chain network is established. Fine Food New Zealand see you in 2018!"
- Danielle Proctor, The Rocky Road House
"Fine Food New Zealand, to me, is [all about] opportunity, impact and professionalism. I went as a visitor a couple of years ago and was really impressed with the number of stands, the caliber of the stands, as well as how busy the show was."
– Wendy Kendall, Waiheke Herbs

"Our product is only three months old, so it's a great opportunity to get it out there to the people that we want to sell it to. People who have only read about our product are getting a chance to get it in their hands, sample it and get a taste for it."
– Ryan Christensen, Hopt Soda

"We're looking to see our customers and we're looking to get feedback from customers. We've got a range of clients now and it's a great opportunity to touch base and network with them, as well as network with other businesses. It's a great opportunity all round."
– Alistair Parker, Molly Whoppy

"The show was a real success for us, we had excellent feedback about our products and the show opened the door to some great opportunities."
– Liz O'Meara, Life Health Foods
"Fine Food New Zealand 2014 has to go down as one of the most successful trade shows we have participated in, both here in New Zealand and overseas.
Time will tell on how successful it has been from our company point of view but I believe we have a number of genuine enquiries for our range of products that will convert to future viable sales. Enquiries varied but included domestic buyers from New Zealand, Australia, Hong Kong, Malaysia and the Middle East.
Fine Food NZ was also used as a launching platform for our newly released foodservice range. The show was an excellent way of promoting the range and having product and application ideas in a face-to-face meeting with visitors."
– Peter McCracken, Wild Appetite
"We've been at every show since its inception. For our company, it's a brilliant showcase where we can bring all of our products to one place and the whole industry comes to us. It is the biennial showcase for the New Zealand hospitality industry, so if you're not here you're going to miss out on 7,500+ business opportunities. I'd recommend it to anyone. If they want to be fully exposed to the hospitality industry they must exhibit at Fine Food NZ."
– Chris George, Burns and Ferrall
"The enthusiasm the team at Fine Food New Zealand has for our industry is extraordinary. The show is an excellent opportunity to showcase our brand and services to a captive hospitality audience, and with such a well organised event this was a great space to hold our Barista Competition.''
– Marisa Bidois, CEO of the Restaurant Association of New Zealand


"Greetings from Poland. I want to thank you for the very professional and well-organized trade show. I hope that our company Mebel Art made a good first step in starting sales in a new market. Best regards and see you next time."
– Janusz Zajdel, Mebel Art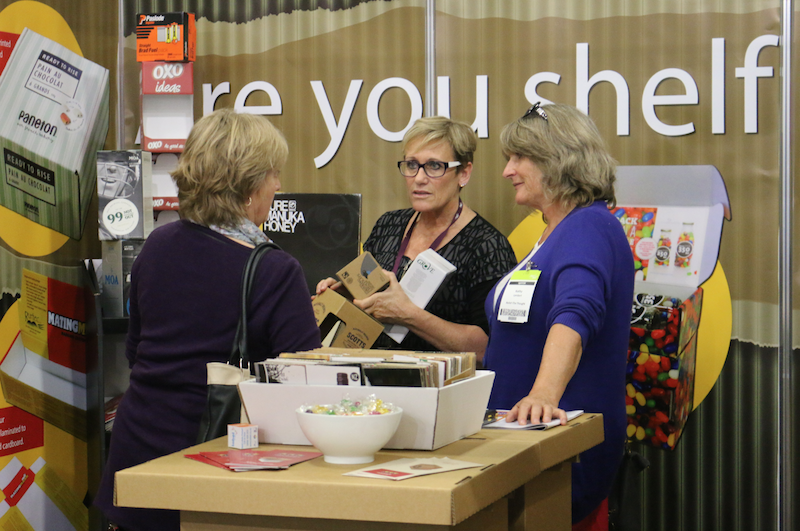 "Great show, excellent exhibitors. We went yesterday with a purpose, to find around seven suppliers in particular categories that we could either use their products or their services for our new ventures and we didn't go away disappointed. Big ups to exhibitors such as YQ (in particular their switched-on Carlos Cumberbatch - what a delight and can he make a brilliant coffee as well as walk-the-talk!), Bennetto, Te Mata Figs, French Imports (boy Wayne Horsewood is a great guy!).
Also thanks to the people at T-sips (absolutely awesome and passionate about their product) and we managed to touch base again with Alan Lilburn at Nuttz and James Bowyer at Proper Crisps.
We also came away with some unexpected surprises through Quack'A'Duck, Parnell Agencies, Mediterranean Food Warehouse (hope you get your voice back Roberto!), Chelsea with "Naturals", Steel Fern (thanks Kendall), Brian and Ingrid at Soprano, and a winner for us, Green Valley with their Barista Milk. What amazing, helpful people on the stand, and the coffee rated with the best." – Mervyn Hurley, Hurley New Zealand
"Food and beverage processing is one of Auckland's most exciting innovative growth sectors. Fine Food NZ is a key event in the sector that stimulates this innovation, whether it is connecting leading companies or having barista's competing over a state of the art latte."
– Brett O'Riley, CEO of ATEED
"Awesome show - went for one hour and stayed for three. Amazed at the products available. Well done to all concerned. I look forward to the next one in two years time."
– Anne Carmichael, Bencorp Systems - suppliers of dockets and diaries to the hospitality industry
---
Contact the team
---