Green Meadows Beef - Carving out an online niche
Premium beef retailer Green Meadows Beef had only been up and running for about six months before exhibiting at The Food Show Auckland 2013.

"We were a brand new business so we saw the Auckland Food Show as a qualified, captive audience of food lovers to get some exposure for us. The sheer number of people coming past your stand was too good an opportunity pass up," says Director Nick Carey.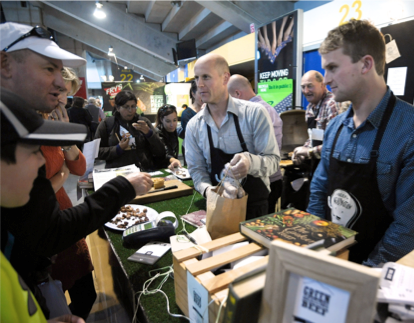 Taranaki-based Green Meadows sells beef to caterers, restaurants, and cafés, through premium retailers like Farro Fresh and Moore Wilsons, and directly to the public via its website (greenmeadowsbeef.co.nz). Online sales account for about 40% of turnover so The Food Show presented an excellent opportunity to engage with consumers directly, let them taste and see the products first-hand, and sign them up to the Green Meadows database.

"We're continually refining the approach based on what works and what doesn't work so you've got to look at each show in isolation, measure up what's worked at that particular show, what we can do better at the next show. We believe it's up to us to make the show work for us so we're always looking to see better ways we can connect with the visitors coming through," says Nick.

"It is a major part of our marketing spend because for a product that is based on taste, on how it looks, the most kind of effective way of marketing we find is through things like the Food Shows."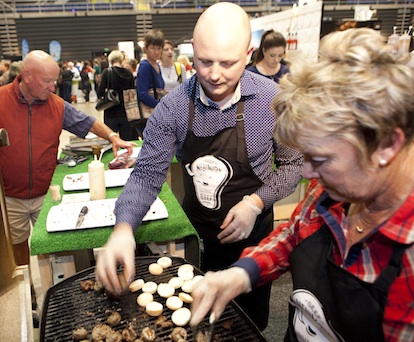 Green Meadows takes a three-stage approach to promoting their engagement with each show – before, during, and afterwards.

"We do pre-show marketing and EDMs to our 6,000 subscribers, and usually include ticket giveaways on social media. Then as much as we can we try to be active on social media during the show and then after the show as well. And then obviously the follow up after the show with another EDM to the new email subscribers that we've obtained.
"Before the show we tell them what products we're going to have available at what price points. During often it's more of an update of what we've sold out of, you've got to be quick to get certain products because they sell out. And then afterwards, it's just promoting our standard offering that's available online.

"We've seen measurable growth as a result, including sales of products at the show and also subsequent sales primarily through our EDMs to email addresses collected at the show."

Nick agrees that face-to-face marketing and online promotions can be a highly effective marketing combination and reckons more companies could be taking advantage of both mediums. His company has worked hard to build the Green Meadows subscriber base and social media audiences from scratch, something he says doesn't happen overnight.

"People have got to spend some time before the show building those social networks and then leveraging off them. Just because you've got a Facebook page and start posting doesn't necessarily mean that people are going to see it. The biggest point is engaging content because otherwise people aren't going to read it or aren't going to follow you."
---
Contact sales