The Village Press - The good oil on exhibiting at The Food Show
Havelock North-based Village Press began exhibiting at The Food Show 14 years ago as part of a group of companies from the Hawkes Bay and has returned year after year because their involvement continues to pay dividends.
Co-Owner Maureen Startup admits exhibiting at The Food Show is a big investment but the benefits extend far beyond the three or four days of each show and more than justify the money spent.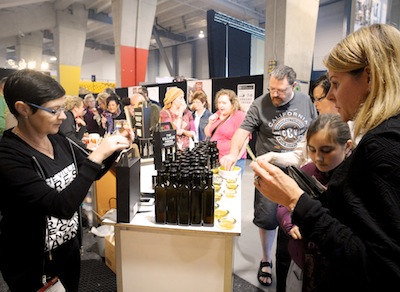 The trick, she says, is to do as much as possible to leverage your involvement before, during, and after the show. For instance, Village Press is generous when it comes to giving away complimentary tickets to the show, a move Maureen says is well worth doing, particularly in the case of supermarket buyers who often feel undervalued.

"One buyer stood at our stand probably for a good hour. She'd never seen our full range and could taste it all. It gives them a chance to see how big the range is and what there is on offer," says Maureen.

"They are busy people and they are there so they can tick a whole lot of things off in one go at one event in just a couple of hours. It's a great opportunity to show them what the customers are going for. It's not staged. You can say: 'You keep on telling me nobody wants that product but just look what's happening with the public'."

The mix of exhibitors, consumers, trade buyers, and celebrity chefs at The Food Show makes the event a dynamic networking environment where instant connections can be made that would be difficult or impossible to set up elsewhere.

"In Christchurch about six or seven years ago Al Brown came up and started tasting our oils. And that's how Al Brown and Co came on-board because we started talking to him and that's been very successful. Same with Peta Mathias and Ray McVinnie and now we're associated with Nadia Lim and Brett McGregor. It's through doing the Food Shows that those relationships have developed."

Sampling is an area that Village Press really pushes because it takes full advantage of the strengths of face-to-face marketing.
"Ours is a premium priced product so how else do you get the public to actually appreciate the difference? We're not going to win on price. We can take full-page ads out but who believes that? We get people to put it in their mouth and taste the difference. And you get a chance to talk to them," says Maureen.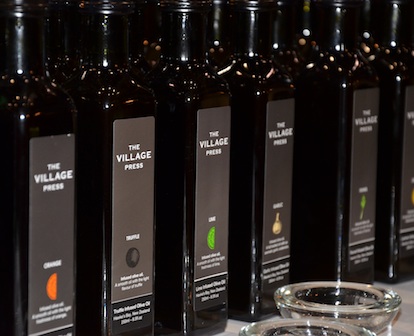 Maureen recognises that sampling can be a big cost for some companies but has learned to reduce costs herself by, for instance, partnering with Loaf to provide the bread people use to sop up her oils so they can taste them. Making a success of your presence at the show means always being at your stand – because you never know when an important buyer, potential business partner, or other opportunity might appear at your stand.

"Those basic rules are important like not eating on the stand, not texting continuously, or reading the newspaper. You actually are there to work. It is exhausting but it's only for three days," says Maureen.
"We just make certain that we are available to do it because the visitors want to talk to the supplier, they want to talk to the person that's actually made it and knows something about it.

"I did [The Food Show] Wellington this year and I wasn't off that stand the whole three days. We were always there early, like about two hours before the show even starts, we always get ourselves prepared and then it gives us a chance to network with other companies."

'Walking the floor' can also provide a rich source of great promotional ideas. "Just walking round the show and talking with other exhibitors, you can see what works for them and figure out if it could actually work for us as well. Not necessarily plagiarising ideas but just gaining ideas and insights, what appears to work and not work."

A potential trap for newbies is going out on the town and having a 'big night' during the show – a trap Maureen is now careful to avoid.
"It's fine to go out and have a drink, but it can take until about two in the afternoon before you start to think properly. It's especially hard when you come up to Auckland from Hawke's Bay and you really want to get a group together and try this restaurant out – but you just can't. I'd love to but it's too hard."

Planning the company's involvement well in advance helps Village Press make the most of opportunities at the show and reduces stress levels.
"We're planning now for next year, things like stand position and stand layout, finalising our objectives and what products we want to promote. You need to get organised."

"With [The Food Show] Christchurch a lot of the buyers come down from Nelson and up from Dunedin. The cost would be huge for us to get around the South Island. So we get our reps out there early and start telling the buyers that we're coming to the show. Our big shops like Moore Wilson always come to the show in Wellington – they never miss and that's invaluable. We get to talk one-on-one to them."

"At the end of the day the Food Shows are a big part of our marketing plan for the year and it's built in already for next year. We always sign on immediately so we know that we're on for next year.

"We've tried other shows over the years. We've done the odd Field Days and a few other small shows but never again. We just stick with North Port Events, they know what they're doing and they're excellent to deal with. We know exactly where we are with them and they're great supporters of us as well. So it's a win-win for us."
---
Contact sales