Visitor testimonials 2019
"It was just simply an awesome day out. I managed to come up with a lot of great ideas for my home and have started saving to pull the trigger on some products and services that caught my eye." 
"It is the highlight of our year; the one we look forward to the most. Nothing gets in the way of our visit. We arrive when the doors open and usually are one of the last to leave." 
Christopher Johnson, Hamilton
"Was worth the money, we got lots of ideas and tried lots of food. Amazing day out." 
Deborah Stevenson, Hamilton
"I love it! Well done for this year, I am always recommending the show to family and friends." 
Exhibitor testimonials 2019
"The Waikato Home and Garden Show gets us in front of customers we had not yet been in front of, and the ability to talk to them one on one about their situation and then book a consultation for the weeks following the show is so valuable to our business. We generate sales we would otherwise have not had the chance too."
Jamie Smith, Curtain Design
"We have been exhibiting at the show for several years and found it a great way to showcase the business and also generate new business. Staff have always been pleasant to work with, and the show will continue to be a big part of our marketing budget and strategy."
Phillip Webb, Mondo Homes
"Brand building is about consistency and in the end "engaged" brains and eyeballs. While a big fan of digital I think that home shows can be an excellent investment. Flexiroof will take a bigger stand next year. Cheers!
Simon, Founder and CEO of Flexiroof
"It was our first time being part of the show. Great experience being part of the show and looking forward to next year's one already."
Sue Sinclair, NZ Rangehood Installers Ltd
Visitor testimonials 2018
"We found the whole experience excellent. The exhibitors were very friendly and helpful. The show seemed more relevant in content than some others we have been to." 
Susan J, Cambridge 
"We had a good day out, learned so much, saw many things to consider for the future and look forward to next year's event." 
Cheryl B, Te Aroha
"Great show and great evening. Anyone looking to renovate or build or buy home related products should go!!"
Justine S, Hamilton
"I had come from Gisborne to see the tiny homes but there was so much more to see than I had expected ... worth a whole day visit."
Sharon K, Gisborne
Exhibitor testimonials 2018
"Well organised, very well promoted. Having exhibited at five major home shows in 2018, this would rate as the best show in virtually every respect."
Chris Joblin, BespOak NZ
"If you are a Waikato business in the home, DIY, garden or property development sector, we would definitely recommend the Waikato Home & Garden Show to promote your brand and services."
Baz Woodcock, Great Lawns & Garden
"We had a great experience as this was our first time in the Waikato. We found the co-ordinators really helpful (the emails leading up to were also very useful) and the visitors our stall attracted exceeded our expectations! Thank you!"
Fiona Coupland, WealthHealth Ltd
"The staff are amazing at the show, and it was really useful to use the HUB to checklist what we need to do before, during and after the show; both in marketing and operations. The quality of people we engaged with at the show were of a high calibre and we are pleased with how our sales were and our engagement with people."
Christina Guy, The Hotel Sheet
Exhibitor testimonials 2016
"The Waikato Home & Garden Show is well run. Organisers were very easy to work with and extremely helpful. Acted promptly when asked to do anything. Staff throughout were always happy and polite. I would recommend becoming an exhibitor as it is an excellent platform to promote your business."
-Sharon Preston, Bupa NZ – Sponsor of Bupa Supercitizens' Day
"This was only our second home show for the year but we found it to be totally professional and very successful. We had lots of excellent response at the show and will definitely be exhibiting again next year."
-Amy Johnson, NZ Bluestone Imports Ltd
"We found the event team very easy to deal with and made sure we were well informed about build day and pack-out plans. The customer flow was consistent each day with a good number of happy people wanting to buy our product. We have already booked for 2017."
-Nathan Gutsell, Lalele Organic
"The Waikato Home & Garden Show has provided us with an excellent platform for customers to visit us. In just four days we were able to answer queries and promote our products and services to hundreds of existing and potential customers. The leads generated will keep us busy with sales over the next 12 months."
-Phil Hitchcock, Harrison Carpets
Visitor testimonials 2016
"I think you nailed it. I work for a building company and was very impressed with the businesses and stalls that were available to talk to. I stopped and talked to a few companies that I have since touched base with regarding quoting for our client's new home."
"My wife and I found this the best home and garden show that we have ever been to."
"This was my 31st Waikato Home & Garden Show. They have all been exceptional and this year was no different. The legacy lives on in good hands. Well done to your team. See you next year."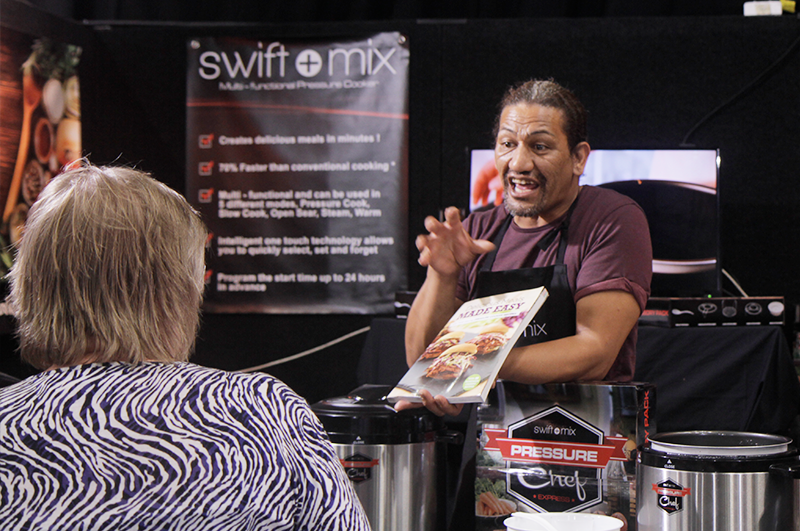 ---
Contact sales
---