Fine Food NZ a launch pad for artisan producers
TUESDAY 18TH MARCH 2014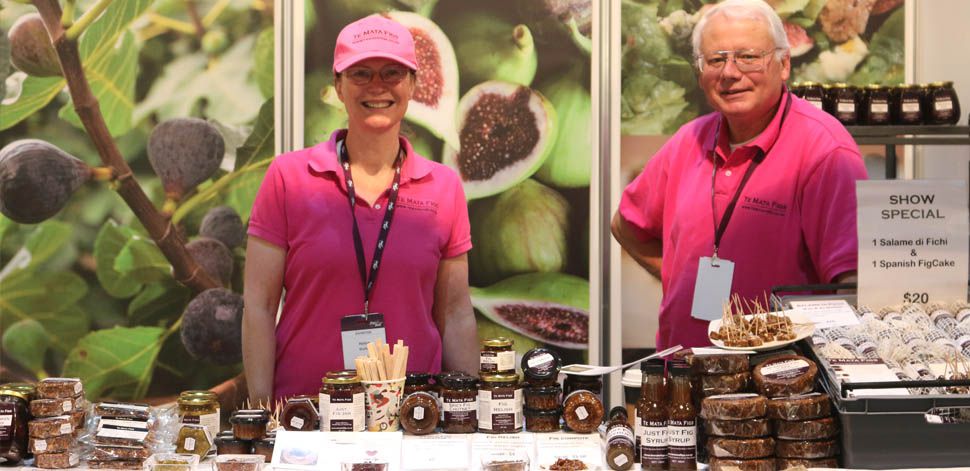 Despite its infancy, artisan gelato and sorbet producers Zelati is already turning heads in the food retail industry.
After officially launching at the Wellington Food Show last year, the fledgling company has already secured distribution through Moore Wilson's, selected New World Supermarkets and a host of cafés, restaurants and hotels in the greater Wellington region.
More recently, and to the delight of the mastermind behind the operation, Alberto Tuason, Zelati has expanded into the lucrative Auckland market through Farro Fresh. Tuason is hoping a successful showcase at Fine Food New Zealand in June will open the door for further expansion into the Auckland and national market.
"We are very excited about getting the brand out there a bit more," he says. "Securing a distribution partner in Auckland would be fantastic. We are also looking forward to seeing what other companies are offering and hopefully coming back with some fresh ideas."
Originally from The Philippines, Tuason has had a life-long passion for food after being exposed to the industry from a young age through his father's fine dining restaurant in Manilla, where he had the opportunity to sample the chefs' Filipino, Spanish and Chinese influenced creations.
After graduating from university and moving to New Zealand 20 years ago to work in the information technology and corporate sector, he reconnected with his love for artisan food through attending a chocolate making school in Melbourne with his daughter in 2007.
Inspired by this experience, Tuason went in search of the holy grail of frozen foods when he pursued the art of gelato making in Bologna, Italy's gastronomy capital.
He mastered the craft of gelato making at Carpigiani Gelato University where he gained hands-on training, worked alongside renowned Italian gelato connoisseurs and eventually graduated as a Maestro Gelatiere.
This education, Tuason says, was invaluable to his understanding of what makes the best gelato stand out from the pack.
"Wandering the cobblestoned back streets to sample the local gelaterias of Florence, Modena, Bologna and Rome, I discovered the best gelato and sorbetto are made only by a select few who create them from scratch using real ingredients instead of premixed powder or paste, which usually contain artificial flavouring, colours and preservatives," he says.
"I brought back to New Zealand this intimate knowledge, skills and passion to make a true and uncompromising gelato and sorbet from scratch using select, fresh, real and gourmet quality ingredients."
Typically, he says, brightly coloured gelatos are made with a pre-mix and have artificial flavours, whereas natural, hand-made gelato mixes produce a much darker concoction.
Late last year, with all the knowledge and skills he picked up in Italy, Tuason opened a production facility in Tawa, Wellington, and began churning out a range of gluten, egg and gelatine-free gelatos and sorbets.
After gaining popularity through its distribution in local supermarkets, Wellingtonians demanded Zelati open a gelato parlour, which now forms an integral part of its factory. The next step, Tuason says, is continuing this hot streak.
Now that Zelati is firmly set up in Wellington, the company is looking to capitalise on its high-flying entrance into the market and believe exhibiting in front of thousands of industry buyers at Fine Food NZ is a perfect platform to expand its reach.
Also new to Fine Food New Zealand this year, Hawkes Bay fig producers Te Mata Figs is excited to be showcasing its wide variety of artisan products to a host of important international and local buyers at the ASB Showgrounds on June 22-24.
The company's owners, Helen Walker and Murray Douglas, left their high-profile Australian jobs after being inspired by the magnificent figs grown by the Italian community of Habersfield in Sydney.
Following their dreams as well as their noses, the couple crossed the ditch in 2007 and bought a run-down orchard in Havelock North to set up operations. Now, seven years later, the company has blossomed into one of the finest artisan producers in the land.
As well as preserved figs, the company's products include jams, relishes, syrups, pastes and more, all of which are gluten-free and made without preservatives and additives.
Walker says, while being smaller, artisan companies can often have an advantage at shows like Fine Food New Zealand by having a more intimate knowledge of their production process.
"One thing that really distinguishes an artisan company from a large-scale producer is you can always go and talk to the person who makes the products," she says. "This really gives people a sense of the passion, love and care that has gone into everything."
After having a fantastic experience at last year's Food Show in Auckland, Te Mata Figs is now ready to exhibit its products in front of an estimated 6,000 high-profile buyers across the retail, foodservice and hospitality industries.
Walker says the chance to take part in such an event is a great investment for future growth.
"The show is a really good opportunity to spread our business to a much wider audience and build relationships with some of the big decision-makers in the industry. I'm sure it will also be very educational. The Food Show was like a classroom - you learn so much from other exhibitors and take away so many great ideas to enhance the business."
Fine Food NZ will feature a range of artisan producers in 2014 including Zany Zeus, Kako Chocolate and Lasco to name a few.
---