Kiwis hungry for more food and hospitality
FRIDAY 4TH JULY 2014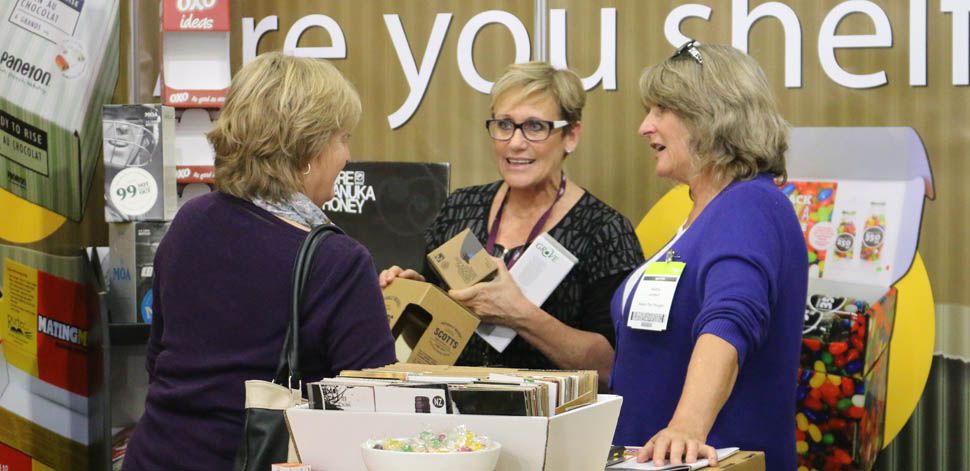 New Zealand's food and hospitality industry is alive and thriving, according to results in from last week's Fine Food NZ (FFNZ) food retail, foodservice and hospitality international trade exhibition.
Visitor numbers attending FFNZ 2014 stood at 6404, up 305 from the last show in 2012, which reflects a 5% increase. Visitors to FFNZ are almost exclusively top quality buyers, from across New Zealand and around the world.
The show's organisers reported registration from delegates visiting from as far a field as China, India, Thailand, the Pacific Islands, the United States, Malaysia and Australia, all looking for quality New Zealand suppliers, despite the high dollar.
In addition, Marisa Bidois, CEO of the Restaurant Association of New Zealand, reports an increase in sales for NZ cafes and restaurants in the last year at just under 10% – the largest increase in over six years.
"The hospitality industry in New Zealand is exploding. Kiwis love food – they love to talk about it, discover new places to eat and flavours to try, they love to cook and to watch it on TV!" says Bidois.
"Fine Food provides an opportunity to harness this interest. We chose to host our Barista Smackdown competition at the event, which matched over 40 top baristas against each other in a knock out competition to find the Smackdown Champ. It was a great way to acknowledge and appreciate these skilled coffee artists," says Bidois.
Dona White, CEO of North Port Events, the company that runs Fine Food NZ, says:
"The intense interest in food provides a huge opportunity to members of these industries in New Zealand to grow and flourish. Fine Food NZ provides a way to connect suppliers with buyers, to enhance and extend the industry as a whole," says White.
"It also allows this huge hub of food industry members to share information and pick up on national trends. For example, at the moment we're seeing a big movement towards fast, fresh, casual restaurant dining."
Brett O'Riley, CEO of Auckland Tourism, Events and Economic Development, was at Fine Food NZ to open it on Sunday June 22nd.
"Food and beverage processing is one of Auckland's most exciting innovative growth sectors. Fine Food NZ is a key event in the sector that stimulates this innovation, whether it is connecting leading companies or having baristas competing over a state of the art latte," says Riley.
Fine Food NZ also played host to a number of significant industry events:
Best New Product Awards
Best New Retail Product – Bennetto's Drinking Chocolate 
Best New Foodservice Product – Sealord Chilli Battered Prawns 
Best New Equipment Product – JL Lennard NZ with IceZone
---
Bakery of the Year Awards 
Bakery of the Year 2014 – Heavens Bakery of Greenmeadows in Napier 
Runner up – 10 O'Clock Cookie Baker Café in Masterton 
Third place – Melody's Bakery of New World in Palmerston North
---
Gourmet Pacific Challenge, by the NZ Chefs Association
Winner – The New Zealand Culinary Team of Richard Hingston, Darren Wright, Steve Le Corre and Mark Sycamore.
---
Who Owns The Pavlova? (Australia vs New Zealand), by the NZ Chefs Association
Winner – The New Zealand Culinary Team of Richard Hingston, Darren Wright, Steve Le Corre and Mark Sycamore.
---
TheShout Fight Club 
Day 1 Winner:
Cocktail: The Jammy Pirate
Mixologist: Garth Parkinson, of Bellini at The Hilton Auckland 
Ingredients: Sailor Jerry's Spiced Rum, blackberry jam, fresh lime, cloudy apple juice, apple cider vinegar, freeze dried berries.
Day 2 Winner:
Cocktail: First Round 
Mixologist: Leon Bavlon, of 1885, Auckland 
Ingredients: Waiwera Juniper Vodka, lemon, orange marmalade, Fountain Drinks Cherry and Pomegranate, mint.
---
The Restaurant Association's Barista Smackdown sponsored by Tiger Coffee and IncaFe
Winner – Masako Yamamoto of Atomic Coffee Roasters and Café in Auckland.
---