Food for thought - The Food Show hits a high
WEDNESDAY 13TH MAY 2015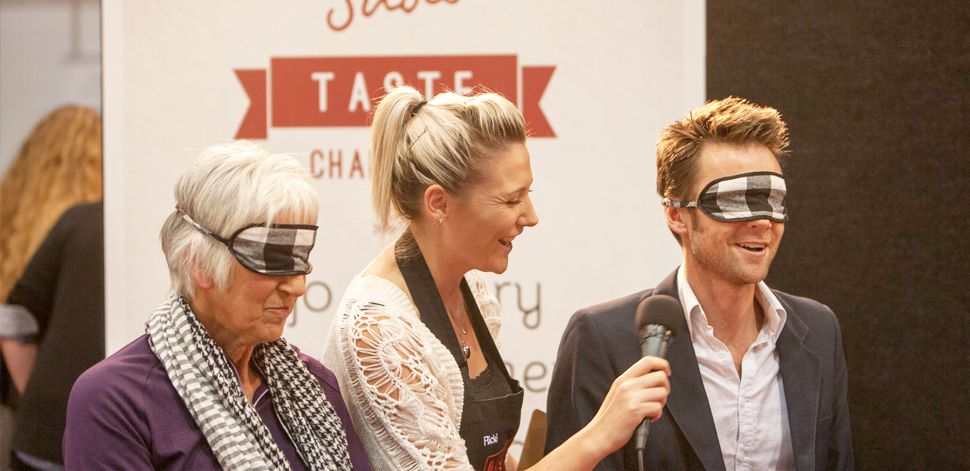 The South Island's biggest foodie event of 2015, The Christchurch Food Show, was a huge success – with visitor numbers reaching more than 10,160 (9.25% more than in 2014).
Cantabrians came in large numbers to support the show, including many who took advantage of the special half-day tickets available on the Friday. They sampled, selected, and bought from the South Island's biggest array of food, drink, and kitchen equipment, witnessed free cooking demos from celebrity chefs, found health-giving products in The Healthy Hub (a new feature), and put their taste buds on the line in the new Taste Challenge Area.
"We were delighted to see so many people walk through the doors at The Food Show, but a particular highlight for us was the special partnership we formed with The Christchurch City Mission," says Rebecca Stewart, Show Director at North Port Events who organised the event.
With the help of visitors and exhibitors more than $1600 was collected for the charity at the event, plus additional proceeds were raised from a special Trade Me auction that sold goods and products donated by exhibitors and chefs.
"At the end of the show many exhibitors, including Raeward Fresh, Hellers, Donovans, and Kiwi Garden, donated leftover food to the City Mission night shelter. Overall, we collected two pallets full of milk, bread, fresh fruit and vegetables, clams, mussels, meat, chocolate, dried fruit, and so much more," says Rebecca. "We were truly amazed by the generosity of our visitors and our exhibitors. And it was great to be able to help such a worthy cause."
Michael Gorman from The Christchurch City Mission says: "I was absolutely thrilled and overwhelmed by how much food and money was donated. Everyone involved with the donations have put so much hard work into this and we are delighted with the outcome. The guys at the night shelter were certainly very excited about the food delivery."
The Christchurch Food Show continues to offer a great showcase for exhibitors and provides excellent sponsorship opportunities for local producers, as was the case with Waipara Hills.
"Visitors to the show were in abundance and many were inspired by the wonderful celebrity chef demonstrations that used our Waipara Hills wines," says Jenny Anderson, Waipara Hills Cellar Door and Café Manager.
Rebecca says: "It's the people that make The Christchurch Food Show such a great event – the visitors, exhibitors, chefs, and sponsors. They are a great bunch, which is why there's such a great vibe and atmosphere every year. So keep The Food Show Christchurch on your radar for next year!"
---