Top Five tips for The Christchurch Food Show
FRIDAY 10TH APRIL 2015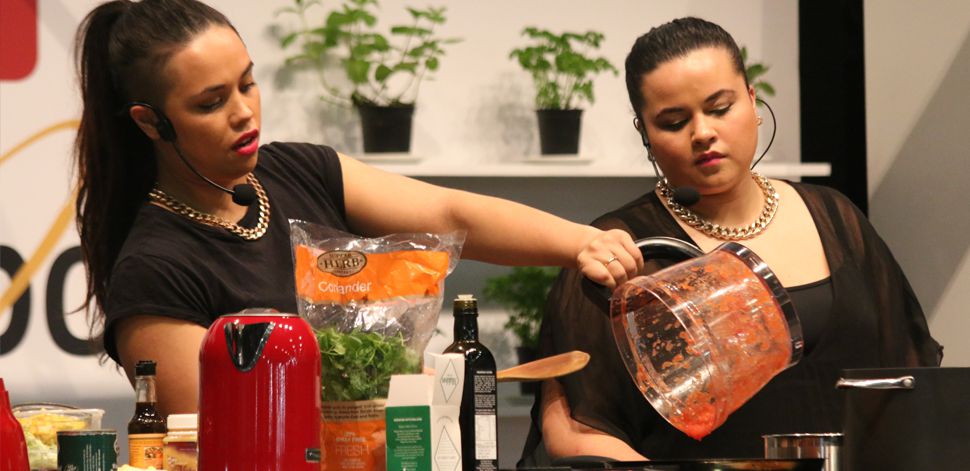 The Christchurch Food Show is one of those fun-filled events that only takes place once a year, but like Christmas and birthdays it runs with much more ease and enjoyment if you put a solid survival plan in place.
Sisters Karena & Kasey Bird, and winners of MasterChef 2014, say: "We are definitely planning our trip to The Christchurch Food Show, to ensure we get to see as much as possible."
"Not only will we be providing cooking demonstrations at the Whirlpool Cooking Theatre, but we'll also be getting in and amongst it to see what the South Island has to offer."
"We're particularly looking forward to watching Fleur Sullivan at the Whirlpool Cooking Theatre and of course, trying some of the food that will be available from the different exhibitors."
"We're hoping see the food trend of using New Zealand made products continue - we think it makes creating a delicious dish so much easier, when you use locally grown products that are as fresh as possible."
So here's the top five tips for getting the most from The Christchurch Food Show:
1. Plan out a visit to the Whirlpool Cooking Theatre
Take in some top tips from your favourite celebrity chefs as they cook up a storm. With demonstrations from the likes of Ray McVinnie, Peta Mathias, Chelsea Winter and Annabelle White, you will be cooking like a pro in no time (or attempting to). Made with delicious ingredients from Raeward Fresh and matched with award-winning wines from Waipara Hills, this is one of the main events at the show definitely not to be missed!
Top tip: Head over to The Food Show website to check out when each chef is cooking – it would be a shame to miss your favourite.
2. Try something new 
For those looking to challenge their taste buds, head to stand K10 - opposite the Whirlpool Cooking Theatre between 11am – 12pm on the Friday morning, where visitors will have the chance to take part in a taste test challenge where they can try different products to identify their ingredients.
3. The Kenwood Kitchen 
At this year's Food Show, there is something for everyone at the Kenwood stand.
Featuring an exciting line-up of top local talent, including award-winning chef and owner of The Dragon's Den Andrew Brown, Jo Mullen and the Sugar Baby Cakery team and Le Panier's highly talented pastry chef Gilles Thebault.
Food Show goers can enjoy tasty delights and take away a host of culinary ideas, tips and tricks to apply at home.
4. Healthy on up at The Healthy Hub 
For a good dose of healthiness, make sure you visit the brand new Healthy Hub. This area is totally dedicated to products and services that promote or suppport natural health, wellbeing, fitness, animal welfare and enviromental responsibility.
Top tip: Get some ideas from author and food blogger, Caralee Caldwell from The Food Pledge. Caralee will be sharing strategies that are realistic for people wanting to simplify their relationship with food.
5. Food and wine matching 
Try your hand at matching up a good wine with the food you serve at your dinner party, by visiting wine sponsor, Waipara Hills, or other wine companies such as Browns Brothers, Kalex Wines, Opawa Wines, The West Coast Wine Company and many more.
Top tip: If wine isn't your thing there is a great selection of craft beers and non-alcoholic drinks to try out, too.
Visit www.foodshow.co.nz for the latest information on what will be taking place. Buy your tickets online to avoid queues on the day and go in the draw to win a 6 nights in Nelson – valued at $5,000, including a guided walk and two nights in the famous Abel Tasman Marahau Lodge.
---