4. Staff your stand
Takes 10 minutes to read

Getting the right staff can be difficult in any business – here are some tips to help with hiring and managing your staff at the event, and with keeping them focused on the same goals.
What's involved?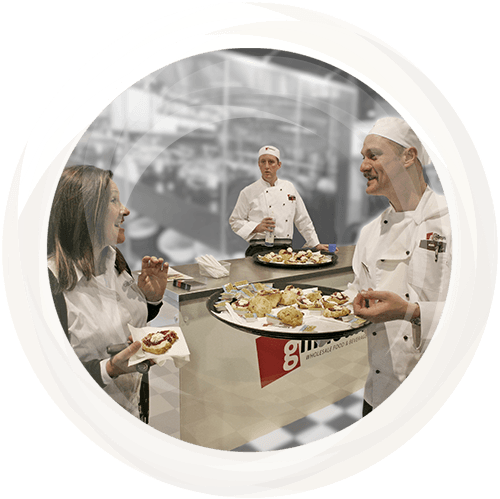 1. Hiring staff
The more visible your presence at the show, the more visitors you will attract to your stand. However, your success largely depends on the collective talent, product knowledge, and energy level of the sales staff on your stand. Take the time to select the right exhibition team and then train them on what your business is hoping to accomplish at the show.
Selection factors
Personality
Attitude towards exhibitions and visitors
Previous performance and experience
Product and industry knowledge
2. Staff dress
If you want to create a uniform look for your staff, be specific. If they're wearing matching tops or colourful shirts with your company branding, make sure you're also specific about the colour and type of pants, skirts, and shoes they need to wear to complete the look. And we recommend comfortable shoes for those long hours on your feet!
Your dress code can be used to promote a team atmosphere among your staff. You can essentially turn your staff into a network of moving advertisements for your company, where they're easily identifiable anywhere on the exhibition floor. And if they're in uniforms or costumes, you don't need to worry about bad wardrobe choices on their behalf.
Consider dressing your staff in fun costumes as another way of making your stand attractive. But be careful – the high visibility created by uniforms and costumes makes it essential your staff are on their best behaviour at all times, both on and off your stand.
A simple branded T-shirt can unify your stand and make it much easier for visitors to know who to talk to.
3. Staff briefing
In addition to general sales training, all stand staff should be fully briefed before the event on what they will be required to communicate or sell, who your primary and secondary target markets are, and how to identify them.
Managing a team effectively can be made easier if there's:
Clarity of purpose: When people know why, they're able to make better decisions and are generally more motivated. A lack of clarity leads to confusion, mistakes, and discussions trying to gain clarity.
Clarity of plan: What are the steps needed for successful completion? A single, shared list that is a source of truth ensures nothing will slip through the cracks.
Clarity of responsibility: Who is doing what, and by when. Ensure multiple people are not responsible for the same tasks. A single source of responsibility ensures there's no confusion and no wastage with multiple people doing the same task.
For more insights, skip to 7 minutes 10 seconds and watch the 'Working with clarity' section from the video below – or see: http://blog.asana.com/2014/01/clarity-teamwork/
A daily exhibition team briefing could include items such as:
Your show goals
How to identify your target audiences
How to demonstrate/explain your products and services
Making sales and taking payment
A discussion of issues from previous days
Collecting sales leads
Competitions/incentives/giveaways
Responsibilities of team members
Peak show times, break times, and a
duty schedule
Dress
Personal targets